LGBT places for Cuernavaca, Tepoztlán, Yautepec, Temixco, Tlaltizapán
Esa página está disponible también en español.
Morelos state contains some significant places of interest for visitors and for gay and lesbian travelers. The town of Cuernavaca is nicknamed the "City of Eternal Spring" for its great weather. It has long been a favorite escape for Mexico City and foreign visitors because of this warm, stable climate and abundant vegetation. And there historically has always been a strong LGBT presence which continues to this day.
The quaint village of Tepoztlán also makes a great day trip either from Mexico City or Cuernavaca and also has an active LGBT community.
Sort by: City/Location | Category | Alphabetic
Upcoming events in Morelos State
August 27, 2022: Sexual Diversity March Morelos in Cuernavaca
The Sexual Diversity March Morelos will be Saturday August 27 in Cuernavaca. Starting at 4:00 pm from Iglesia del Calvario.
More information
Publish your event here
Cuautla

Show gay map of Cuautla
Hotel with 36 rooms, 3 swimming pools, gardens, restaurant, parking, free wifi in a place with history and tradition. Gay friendly choice which often hosts events and workshops aimed at the LGBT community.


+52 735 352 1266


View on booking.com

Average room rate: $50 USD


Average rating: 72 Good


View on map
Temixco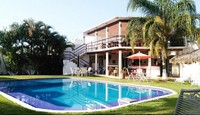 Gay friendly hotel and villas which is one of the sponsor's of the Cuernavaca LGBT+ pride march. Comfortable rooms and self catering apartments with pool.


+52 777 230 6774


View on booking.com

Average room rate: $50 USD


Average rating: 69


View on map
Tepoztlán

Show gay map of Temixco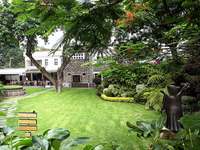 Boutique hotel and spa. Mixed clientele but certified gay friendly by Morelos Tourism.


+52 800 221 5903


View on booking.com

Average room rate: $120 USD


Average rating: 90 Excellent


View on map
TepozSpa is a spa for men located in beautiful Tepoztlán, Morelos, México, with swimming pool, hot tub, showers, lockers, private rooms, steam room, sauna, massages, lounge areas, video, music, volleyball. Located just 1 hour from Mexico City or 15 minutes from Cuernavaca. Open Saturday and Sunday.


+52 777 491 7968, 739 395 8457


View on map
Tlaltizapán

Show gay map of Tepoztlán
Water park in natural setting, clear cold spring fed river, lush tropical plants, restaurant, swimming, diving, snorkeling, not gay, families, but lots of guys in swim trunks, a Tarzan movie was filmed here


Average rating: 94 Excellent


View on map
Additional comments from our visitors about LGBT places for Morelos State
Write a review or comment