LGBT places for Morelia, Pátzcuaro, Uruapan, Lázaro Cárdenas
Esa página está disponible también en español.
From the bustling city of Morelia to the quiet lakefront town of Pátzcuaro, there is much to discover for the LGBT visitor to Michoacán.
At this time, we only know about LGBT places in Morelia, Pátzcuaro and Uruapan. We don't seem to have any gay or lesbian places listed yet for Lázaro Cárdenas. Something probably exists...if you know of places you can help by adding them to the map.
Sort by: City/Location | Category | Alphabetic
Pátzcuaro

Show gay map of Pátzcuaro
Gay owned hotel and RV park. 12 rustically styled rooms with fireplace and cable TV. Swimming pool.

see reviews on TripAdvisor


View on booking.com

Average room rate: $45 USD


View on map
Uruapan

Show gay map of Uruapan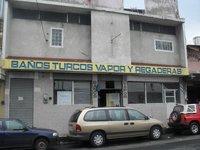 Bathhouse for men with mixed clientele: hetero, gay and heteroflexible. Cruise with caution as some really are just straight guys there for a steam.


452 519 0341


View on map
Permanently closed places
The following venues have been reported as permanently closed but we have listed them here as other less current websites may still be listing them as open. If there is a place in this list that has reopened or one above that has closed, please advise us at info@gaymexicomap.com
Morelia: Glam Club Nocturno
Morelia: Las Rojas Morelia
Morelia: Play Bar
Morelia: The Cave
Patzcuaro: Bar Inframundo
Patzcuaro: El Closet, Café
Patzcuaro: Red Star Café
Additional comments from our visitors about LGBT places for Michoacán State
Write a review or comment