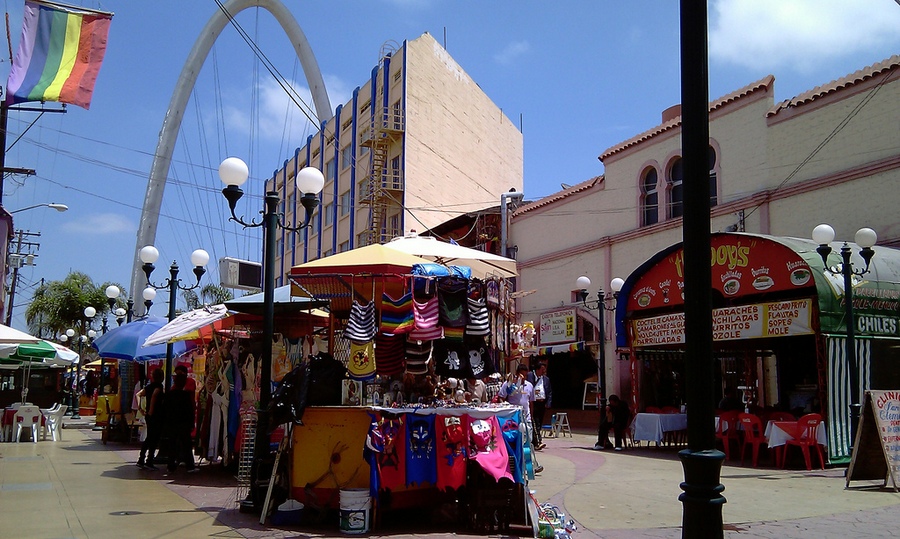 Cross border clubs and a big party scene
Esa página está disponible también en español.
Tijuana has a vibrant gay scene right in the heart of the city, just a short walk from the border. The pedestrianized Plaza Santa Cecilia has a number of gay bars and many more are just a short walk away.
Most places have a mix of tourists and locals. Big thumping dance clubs, small bars and everything inbetween are available. There are even a couple of bathhouses.
Hustlers are fairly commmon in a number of places so make sure you know what you're getting into. Pickpockets can also be a problem in backrooms or in lap dancing places so keep your wallet and phone safe.
For the rest of Baja California Norte including Ensenada, Rosarita and Mexicali, click here.
Sort by: Category | Recomended | Alphabetical

Discos/Dance Clubs
Right across the border is this club with 3 different spaces: Extasis: Strippers & Gogos, Club Fusion: Dance Nightclub, Caguas Bar: Karaoke & Dance. Located inside the Plaza Viva Mall (on the north side of the mall facing the US border). Gathering spot for gay entertainment in Tijuana. A modern, festive gay dance club that is very popular with both Mexicans and Americans. Dancing, strippers, drag shows, back rooms. Open Friday & Saturday 8 PM to 3 AM, Sunday 8 PM to 2 AM


(664) 264 6781


View on map
Disco with varied crowd of locals and foreigners. The entrance consists of a stairway accessible from Ave. Revolución. Open Wed to Sun 8:00 pm - 5:00 am


(664) 638 1274


View on map
Av Revolución 1220 (at Calle 6A) tel 52-664/685-3534. This longtime venue of Tijuana gay nightlife is still a good place to find many Mexicans who like to dance to Spanish and English pop songs and watch excellent drag shows. East side of Avenida Revolucion near 6th Street.


View on map
Bathhouses, Saunas, Massage, Cruising Clubs
Lockers, towels, changing room, 2 steam rooms, relaxation room, jacuzzi, snack bar, garden and terrace area with sunbeds, smoking area. Open Tue - Sun 9am to 9pm, closed Mondays.


(664) 683 6505


View on map
Steam rooms, cruising, bar with snacks, beers and sodas, dark room, showers, massages. Open daily 6 am to 9:3p pm. Located on Blvd. Diaz Ordáz a half block east (on the right) from the entrance of Mercado de Todos in La Mesa.


(664) 622 0386


View on map
Community Centres
Offers HIV tests, patient referals, condom distribution, free internet, legal advice, psychological support.


(664) 688 0415


View on map
See full details
Sex Shops
Sex shop offering a complete line of products for adults. Including condoms, lubricants, Fetish Supplies, Bachelorette Party, Adult Video and more. Also have a XXX film video booth arcade with 30 cabins each offering up to 20 films to choose from. There are also lockers to protect your valuables.


664-685-5335


View on map
Permanently closed places
The following venues have been reported as permanently closed but we have listed them here as other less current websites may still be listing them as open. If there is a place in this list that has reopened or one above that has closed, please advise us at info@gaymexicomap.com
Coffee Shops: Emilio's Cafe
Additional comments from our visitors about Tijuana LGBT Places
Write a review