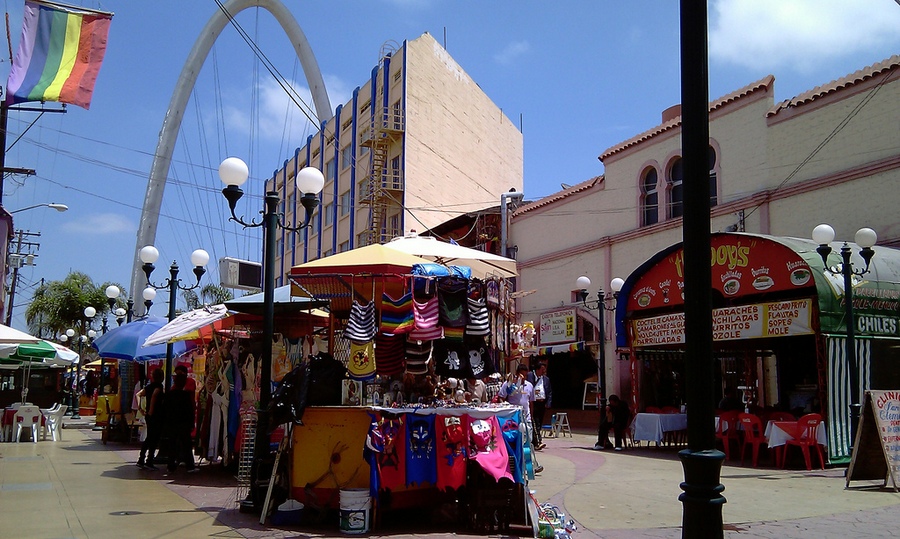 Cross border clubs and a big party scene
Esa página está disponible también en español.
Tijuana has a vibrant gay scene right in the heart of the city, just a short walk from the border. The pedestrianized Plaza Santa Cecilia has a number of gay bars and many more are just a short walk away.
Most places have a mix of tourists and locals. Big thumping dance clubs, small bars and everything inbetween are available including several bathhouses.
Hustlers are fairly commmon in a number of places so make sure you know what you're getting into. Pickpockets can also be a problem in backrooms or in lap dancing places so keep your wallet and phone safe.
For the rest of Baja California Norte including Ensenada, Rosarita and Mexicali, click here.
Sort by: Category | Recomended | Alphabetical
Hotels, B&Bs
Hotels in Tijuana can vary greatly from flophouses to luxury. Some of the more central places can also be noisy from nearby clubs and restaurants. Many hotels will not allow visitors to your room so keep that in mind. There are no exclusively gay hotels in town but listed below are gay friendly hotels which are well located and for which we've heard good things.
Coffee Shops
Gay owned coffee shop which is popular with a LGBT crowd. Espresso drinks, crepes, frappes.


664 6854720


View on map
Cafe and coffee house with live music in the evening. Also houses the headquarters of many Tijuana gay services and resources. A calmer, relaxing place to hang out and talk. North side of 3rd Street in the America Parking building.


88 02 67


View on map
Bathhouses, Saunas, Massage, Cruising Clubs, Cruising Areas
Below are the exclusively gay bathhouses like international visitors might expect. But there are also half a dozen more bathhouses in Tijuana of the classic Mexican sort with a mixed crowd which may be there for the steam etc but there also is discreet cruising and sex at all of them.
Lockers, towels, changing room, 2 steam rooms, relaxation room, jacuzzi, snack bar, garden and terrace area with sunbeds, smoking area. Closed Mondays and Tuesdays.


(664) 683 6505


View on map
Steam rooms, cruising, bar with snacks, beers and sodas, dark room, showers, massages. Open daily. Located on Blvd. Diaz Ordáz a half block east (on the right) from the entrance of Mercado de Todos in La Mesa.


+52 664 622 0386


View on map
Adult cinema with cruising and discreet play in the seats and in the toilet area. Mixed gay, straight and heteroflexible crowd. Note there are two cinemas with separate entrances. The "family" theater and the adult theater. Look for the small door going to 2nd floor theater, see the photo, which is easy to miss. The adult cinema is open from 12:40 pm to 10:00pm and the cost of entry is 40 pesos.


View on map
Community Centres
Comunidad Cultural de Tijuana is a non-profit dedicated to promoting respect towards the LGBTI community. The promote spaces and events for the LGBTI community with themes of human rights, health, education, art and culture. In their office services offered include psychological assessment, HIV tests, condoms and movie nights. The lesbian group Colectivo Lavanda Clit also meets here.


664 290 9007


View on map
See full details
Sex Shops
This large sex shop and cabinas store has now added a bar too so you can have a beer with your cruising. The sex shop offers a complete line of products for adults. There is a XXX film video booth arcade with 30 cabins each offering up to 20 films to choose from. There are also lockers to protect your valuables.


664-685-5335


View on map
Permanently closed places
The following venues have been reported as permanently closed but we have listed them here as other less current websites may still be listing them as open. If there is a place in this list that has reopened or one above that has closed, please advise us at info@gaymexicomap.com
Bars, Discos: Bar DF
Bars, Discos: Camaleón Bar
Bars, Discos: Colibri Lounge
Bars, Discos: Mike's Disco
Bars, Discos: Zky Blue
Community Centres: Centro Comunitario GLBTI
Additional comments from our visitors about LGBT places for Tijuana, Baja California
Write a review or comment