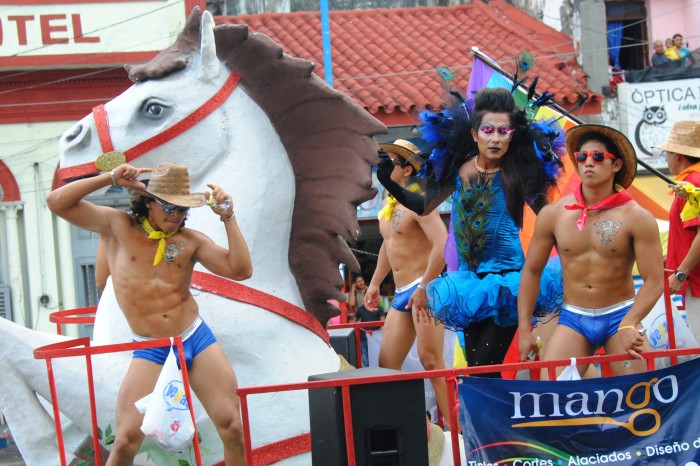 LGBT places for Veracruz, Boca del Rio, Xalapa, Coatzacoalcos
Esa página está disponible también en español.
Veracruz state has a vibrant and very active gay community with multiple destinations for LGBT travelers. All three cities have longstanding pride marches.
The largest city is also called Veracruz. It is a port city and along with the adjoining beach town of Boca del Rio there are many places catering to gay visitors.
The state capital is Xalapa. Sometimes spelled "Jalapa" (but always prounounced "ha-la-pa", this urban delight houses not only the government of Veracruz state but also the Universidad Veracruzana, a lively arts scene, a convivial café life and a sophisticated, chic population.
At the south end of the state is another port city, Coatzacoalcos, and the third largest city in the state.
Sort by: City/Location | Category | Recommended | Alphabetic

Upcoming events in Veracruz State
May 19 2018: Pride March LGBTTTI Xalapa XII
Gather for Xalapa's 12th annual LGBT march at the Monumento la Araucaria in front of Panteón Palo verde at 5 pm to leave marching at 6 pm to Parque Juárez
More information
May 20, 2018: 8th Coatzacoalcos, Veracruz Pride
Coatzacoalcos has their 8th annual pride parade on Sunday May 20 after the International Day Against Homophobia. It starts at 6pm from the Malecón Costera, corner of Constitución casi fte. a la Pirámide.
More information
Publish your event here
Coatzacoalcos

Show gay map of Coatzacoalcos
After hours bar (from 9pm until 8am or 11am the next day) with strippers, drag shows, waiters in boxers


+52 922 183 9188


View on map
Bar and disco/nightclub. Drag shows, strippers. Open Thursday to Sunday usually from 10pm to late.


+52 921 113 6647


View on map
Later night bar, open daily from 9 pm until early the next morning. Strippers and drag shows on weekends, drink specials and waiters in underwear.


+52 229 128 5461


View on map
Xalapa

Show gay map of Xalapa
Disco open Thursday to Saturday from 10:30 pm


+52 228 102 0709


View on map
Disco with local and traveling DJs playing circuit, pop & reggaeton. Open Thursday to Saturday from 10:30 pm


View on map
Permanently closed places
The following venues have been reported as permanently closed but we have listed them here as other less current websites may still be listing them as open. If there is a place in this list that has reopened or one above that has closed, please advise us at info@gaymexicomap.com
Xalapa: La Bouche
Additional comments from our visitors about LGBT places for Veracruz State
Write a review