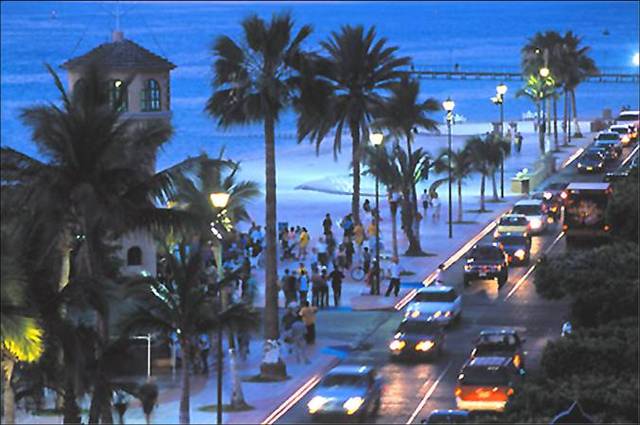 Baja California Sur is made for relaxing
Esa página está disponible también en español.
La Paz, the capital of Baja California Sur has a small gay scene, an annual pride march and lots of people watching and cruising opportunities along the Malecon. Unfortunately, the gay bars that we did know about have closed but there are a number of gay friendly places.
La Paz is not itself a beach city, but within a 10- to 45-minute drive from the center you'll find some of the loveliest beaches in Baja, reminiscent of the Caribbean with clear, calm turquoise waters. At sunset there is cruising going on along the beaches north of town between Playa El Coromuel and Playa La Concha. Further away, Playa Balandra is worth the trip and some cruising has been reported walking from Playa Balandra to the next beach. La Paz has an annual LGBT pride parade each June.
The beach resort towns of Cabo San Lucas and San Jose del Cabo are the two largest towns in the Los Cabos area. Cabo San Lucas has some gay nightlife and an annual LGBT pride march. The area also has many gay friendly hotels as well as lots of beautiful beaches to explore.
Todos Santos is popular with artists and is known for its many galleries. To the south, beaches like San Pedrito and Los Cerritos are known for their strong surf.
For the north part of Baja, go to the Tijuana page or the Baja California North page for Mexicali, Ensenada and Rosarita.
Sort by: City/Location | Category | Alphabetic
Cabo San Lucas

Show gay map of Cabo San Lucas
Center offering STI testing and counselling for the LGBTQ+ community


+52 624 245 9828


Average rating: 100 Exceptional


View on map
Gay club with dancing, DJs, drag shows, gogo boys and girls


+52 624 121 5302


Average rating: 66


View on map
On the finest stretch of beach, this resort steps down to the sea, its 155 rooms and suites arranged in a terraced embrace of free-form pools and gardens, Bali beds and sunshine. Member IGTLA and sponsor of Los Cabos Pride.


(624) 145 7800


View on booking.com

Average room rate: $450 USD


Average rating: 95 Exceptional


View on map
La Paz

Show gay map of La Paz
Trendy straight but very gay friendly nightclub. Young crowd.


+52 612 157 3322


Average rating: 80 Very Good


View on map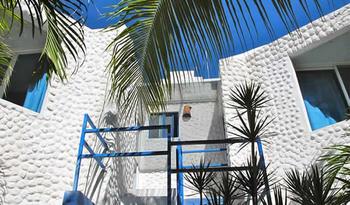 Boutique hotel in the center of La Paz, just 25 yards from the Malecón. This was the gay owned Hotel Mediterrane and now has a new name and new owners but it still gay friendly. There are nine sunlit rooms, each unique in design and decoration, all gathered around a tranquil, palm fringed courtyard. The rooftop terrace overlooks the Malecón.


+52 612 125 1195


View on booking.com

Average room rate: $75 USD


Average rating: 83 Very Good


View on map
San José del Cabo
Stylish gay friendly hotel with modern design on the beach 40km north of Cabo San Lucas. Onsite restaurant.


011 521 (624) 154-6966


View on booking.com

Average room rate: $159 USD


Average rating: 88 Excellent


View on map
Tour company offering a naked beach day. You will have a day at the beach where you can walk naked on secluded beaches, it includes water, beer, umbrellas and beach chairs, it also includes a photo session. They also offer other general tours with a mixed crowd.


+52 624 199 7008


View on map
Todos Santos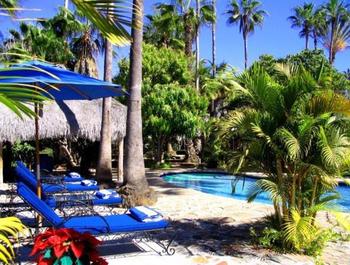 As there are no particularly gay hotels in Todos Santos, this gay friendly well reviewed hotel is our best recommendation. Large classically styled rooms, pool and close to downtown restaurants etc.


+52 612 145 0547


View on booking.com

Average room rate: $250 USD


Average rating: 92 Excellent


View on map
Additional comments from our visitors about LGBT places for Baja California Sur State
Write a review or comment