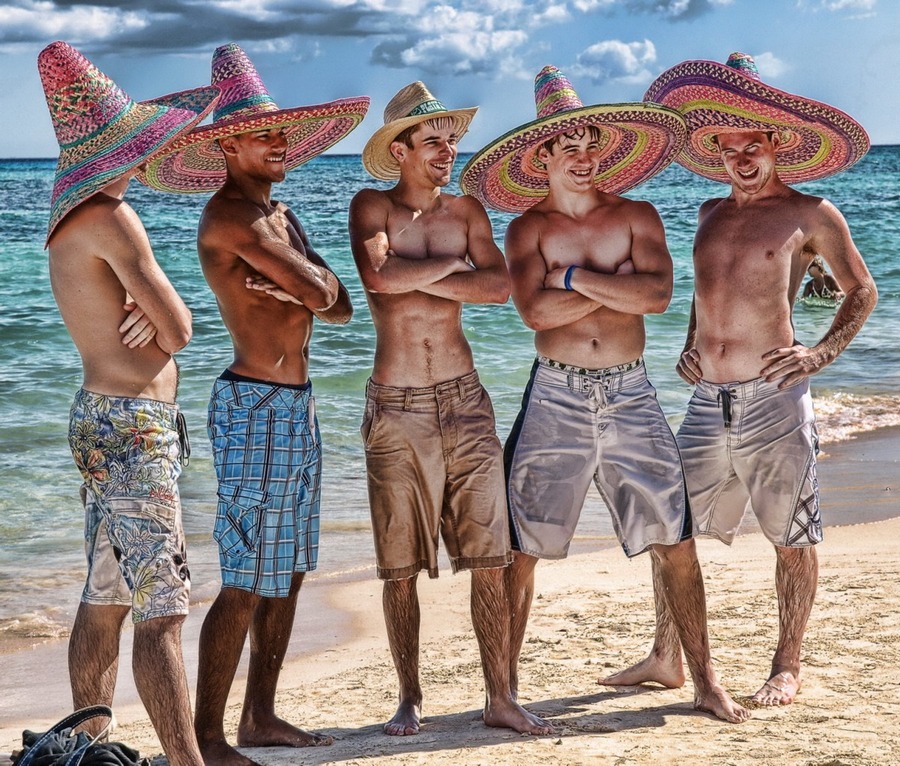 Cancun and the Riviera Maya - White sand beaches and fun in the sun
Esa página está disponible también en español.
The Yucatan peninsula is primarily known for its beach resorts (in Quitana Roo state) such as Cancun, Cozumel, Playa del Carmen and Tulum. There is a good-sized gay scene to be found in Cancun and a growing one in Playa del Carmen. Special gay events and circuit parties are also regular visitors to the resort towns so keep updated on the Gay Mexico facebook page.
Quintana Roo state is also a leader in Mexico in terms of LGBT rights, with same sex marriages being legal statewide since 2012.
Elsewhere on the Yucatán there are a number of world famous archelogical sites from the Mayan civilization such as Chitzen Itza and Tulum. And the capital of Yucatan state, Merida, has a thriving gay scene.
Sort by: City/Location | Category | Recommended | Alphabetic

Cozumel
Island destination known for the diving/snorkeling and as a day stop for cruise ships. If you're looking for Cozumel vacation rentals, click here
.
live DJ on weekends open everyday 10 am to 12 am sat till 3 am 2 floors great music. The only gay bar on Cozumel.


(987) 872 3839


View on map
Playa del Carmen
Playa has a growing reputation as a gay destination with several major destination parties occuring each year and a growing year round gay scene. If you're looking for Playa del Carmen vacation rentals, click here
.

Show gay map of Playa del Carmen
Specialist in same sex weddings. They organize the event, ceremony, legal documents and all the logistics.


55 5464 3636


View on map
Handmade swimsuits and beach clothes. Exclusive pieces.


984 128 25 52


View on map
Bar, Disco, Stripper Shows, Drag Queen Shows.


5214151257496


View on map
Gay owned "straight friendly" bar. The name is a response to the hateful racist and homophobic comments of Trump and is a wall which is inclusive, which protects, a wall of love, hugs, and parties. Here all colors, races, religions, sexualities, ideologies, etc are welcome.


+52 984 149 1862


View on map
Bar and dance club open Tuesday to Saturday. Mostly men. Strippers and drag shows on some nights. Entrance hidden in an alleyway to the left of the 7-11.

see reviews on TripAdvisor


View on map
Bathhouse with steamroom, pornroom, darkroom, lockers, jacuzzi, wirelees internet and more... must be 18 years old or more. a place to meet guys make new friends or just to have fun. Men only. Open 4pm - 10pm daily.


(984) 2062996


View on map
Puerto Morelos
Gay owned and operated with cabañas and camping. Jungle setting where you'll be close to nature and might see spider monkeys or exotic birds. Located 15 minutes from the small village of Puerto Morelos with its beautiful white sand beach. Nearby are cenotes (underground rivers) to explore as well and the larger cities of Playa del Carmen, Cancún, Cozumel and sites such as Chitzen Itza and Tulum are not far.


+52 777 439 7871

Average room rate: $70 USD


View on map
Additional comments from our visitors about LGBT places for Quintana Roo
Write a review