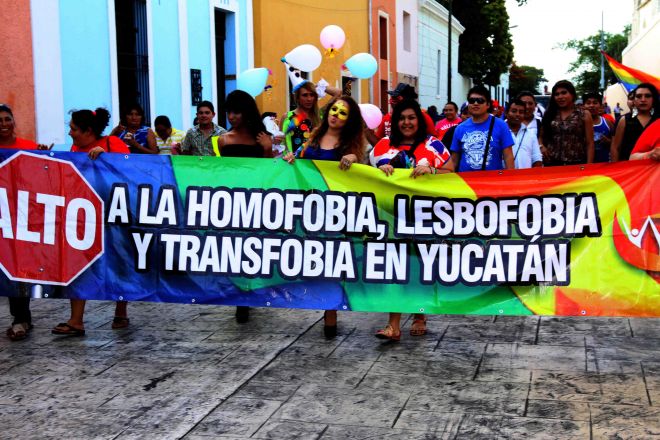 Colonial City with a happening gay scene
Esa página está disponible también en español.
The capital of Yucatan state, Mérida, has a thriving gay scene. The city's ambiance is colonial and the climate is tropical. And it is close to famous tourist sites like the Mayan ruins of Chitzen Itza as well as to the beach resorts of the Riviera Maya such as Cancun and Playa del Carmen.
For other places in Yucatán state, please see the Yucatán state page.
Sort by: Category | Alphabetical
Upcoming events in Merida, Yucatán
October 15-20, 2021: Ella Mexico Lesbian Festival
ELLA Mexico Festival is culture, music and art for the LBTQ+ women in the gorgeous city of Merida Yucatan, the Mayan paradise in Mexico.

Talks with international speakers, networking sessions, nature, literature, and the First Queer Fashion Show in Latin America. Enjoy with the best international artists and DJs.
More information
Publish your event here
Landmarks
Also called The Zocalo or Plaza de la Independicia. Main public park bounded by calle 60 and 62, and calle 61 and 63. Lots of cruising. Caution: Many rent boys. Part of the circuit, that includes Parque Hildago at calle 60 and 59 and Santa Lucia area at Calle 60 por 55.


View on map
Restaurants
Gay owned pool side bar/café offering full bar and small plates. Located in the historic Hotel Villa Verde Merida. 2x1 Happy Hour daily from 4:00 to 7:00. Pool pass available for $100 peso which includes a beer, towel, Wi-Fi and changing space. Open Wed – Sat 1:00pm to 9:00 pm.


999 290 7759

see reviews on TripAdvisor


View on map
Bathhouses, Saunas, Massage, Cruising Clubs, Cruising Areas
Turkish Bath with limited facilities: 2 steam rooms, video, changing room, massage, soft drinks. Open daily 3pm - 9pm.


View on map
La Caza means "the hunt". Sauna for men with indoor and outdoor pools, steam room and Hindu themed decor. Discretion.


View on map
Cyber cafe with private booths for browsing the net which can be very cruisy late at night. Some discrete action takes place in the booths.


View on map
Gyms, Yoga, etc
Mixed but gay friendly gym that has been a sponsor of the Merida LGBT Pride March. Weights, cardio, spinning, classes.


+52 999 209 8230


View on map
Sex Shops
Toys, games, and articles for adults. Second location downtown at Calle 61 between 52 and 54.


+52 999 287 9045


View on map
Travel Agencies, Tours
Experiences for the gay traveler in the Yucatan


+52 9993505518


View on map
Permanently closed places
The following venues have been reported as permanently closed but we have listed them here as other less current websites may still be listing them as open. If there is a place in this list that has reopened or one above that has closed, please advise us at info@gaymexicomap.com
Hotels, B&Bs: Casa Sonrisa
Hotels, B&Bs: Posada Santiago Guesthouse
Bars, Discos: Angeluz
Bars, Discos: Bar Rafaris
Bars, Discos: Foxxys Platinum 5 stars
Bars, Discos: La Comadre
Bars, Discos: La MalQuerida Cantina
Bars, Discos: Macumba II
Bars, Discos: Milk Gay Club
Bars, Discos: Pride Cabaret
Bars, Discos: Restaurante Bar La Sirena
Bars, Discos: Rush Bar Terraza
Bars, Discos: Scalibur Disco
Bathhouses, Saunas, Massage, Cruising Clubs, Cruising Areas: Ciber Zoom Zoom
Bathhouses, Saunas, Massage, Cruising Clubs, Cruising Areas: La Cueva Merida
Bathhouses, Saunas, Massage, Cruising Clubs, Cruising Areas: Olympus Spa for Men
Additional comments from our visitors about LGBT places for Merida, Yucatán
Write a review or comment