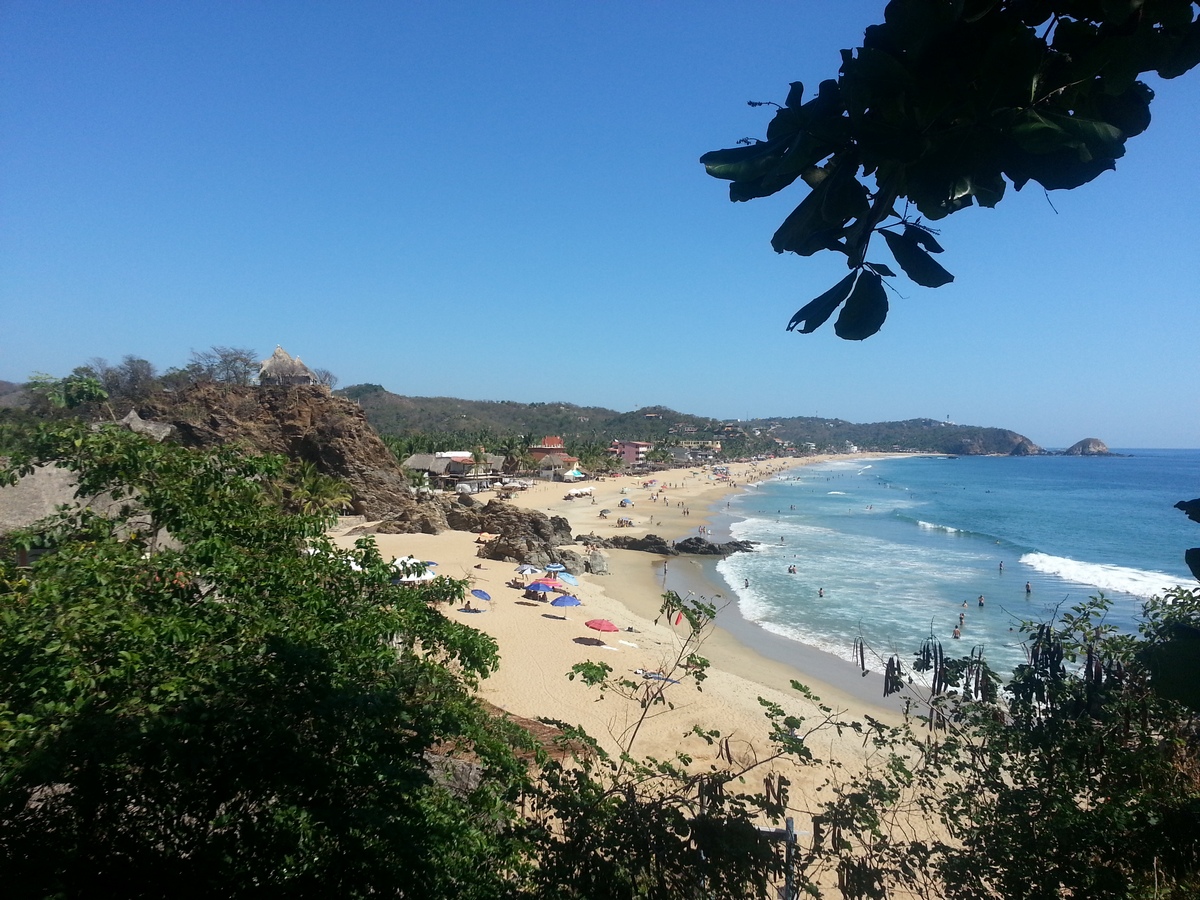 An Undiscovered Gem Where Almost Anything Goes
Esa página está disponible también en español.
The first thing anyone says when they mention Zipolite is that it's an amazing place but you can't tell anyone. It must remain undiscovered else it will be ruined. So do NOT read the information below. Or we'll have to kill you, sorry.
Mexico's only real nude beach and very gay friendly
Zipolite is one of the highlights for a gay or nudist visitor to Mexico. The beautiful approximately 2 km long beach is fronted by a collection of beachside restaurants and hotels. Nudity is entirely accepted and normal on the entire beach as are displays of affection between same-sex couples. The middle sections of the beach though are primarily straight and primarily clothed. The beach faces almost directly south so you can catch both beautiful sunrises and sunsets. At the west end of the beach is El Alquimista hotel and restaurant and Shambala. El Alquimista's beach restaurant is a popular gay gathering spot and the rocks and beach in front are as well. The most gay section (and the most nudist) is Playa del Amor, reached by walking to the far east side of the main beach, wading a small pond depending on the tide and then climbing a stairway up and back down to the small hidden beach. This is the most popular and the most cruisy spot for gay men (although it is also mixed).
Many hotels and restaurants but limited services
There are many gay owned and managed businesses in town and virtually everyplace is welcoming of gays and lesbians. The businesses below tend to be the most popular with the gay crowd but everyone is welcome. Other places in town may have more of straight or party vibe. You'll find the majority of businesses either on the Adoquín (main street just off the beach) or along the beach itself.
Zipolite's everything goes sort of vibe has attracted a number of communities to the area which in some ways complement each other and in other ways compete. As well as the gay and nudist presence, there are a number of places for yoga and massage which have a more spiritual vibe. And there are is also a young party crowd that comes down for all night raves on the beach.
Note that there are few services in Zipolite other than hotels, restaurants, bars and some basic groceries and souvenirs. There are either 1 or 2 private ATMs but they are infrequently out of service/out of cash and so if you run out you may need to go to a real bank, the closest of which is Pochutla (the ATM in Puerto Angel is no longer there). More places accept credit cards than in the past but you will still need cash at many places so it is best to plan ahead and bring what you'll need for your stay. Wifi is plentiful but generally not super reliable. The area is decently covered for cell service with Telcel and perhaps other carriers but it may not be the fastest.
Getting Here
To get to Zipolite, most people arrive at the Huatulco or Puerto Escondido airports which are both about an hour's drive. From Huatulco airport, walk out of the terminal about 10 minutes towards the highway and at the OXXO you'll see many taxis waiting. This is substantially cheaper than taking one of the aiport taxis which are at the terminal. The current price for a taxi from the OXXO to Zipolite is 750 pesos (about $40US), check the rate here. The cheaper option is to take a bus or camioneta (shared pickup truck transport) to Pochutla then a taxi or another camioneta to Zipolite (detailed instructions here).
Puerto Escondido is a bit further so taxi all the way would be more. Or you take a taxi from the airport to nearby bus station and take a bus towards Pochutla and get off at the turn off for Mazunte and Zipolite and then a taxi or camioneta.
Getting to Oaxaca city is about a 7 hour winding and nauseating drive over the mountains on route 175. There are two companies which make the trip in about 12 passenger vans, Lineas Unidas and Eclipse 70. Last I checked it was about 300 pesos (cash only). Note that if you're at all subject to motion sickness this is a vomit inducing ride. The other alternative is to take a larger more comfortable bus from Pochutla which take the longer route on highway 190 but that will take more like 9 hours. There are also several small turboprop airlines which fly Huatulco or Puerto Escondido to Oaxaca.
Sort by: Category | Alphabetical
Jump to: Hotels | Bars/Clubs | Popups | Restaurants | Gym | Shopping
Upcoming events in Zipolite, Oaxaca
May 14-21 2023: Zipolite Diverso
Zipolite Diverso is a week long pride celebration in Zipolite with a variety of events.
More information
Publish your event here
Popups, weekly and monthly events
Queer dance parties with touring or local DJs which happen on an irregular schedule, often at La Patrona.


View on map
Electronic dance music parties with touring DJs that happen on an irregular schedule (check social media for dates and details) usually at La Venita Surf Bar. Not exclusively gay but very welcoming to all dance music lovers.


Average rating: 86 Very Good


View on map
Beaches
The whole of Zipolite beach is a nude beach, even if clothed people are the majority. But the more secluded Playa del Amor is the most gay (and has the most nudity). It is reached by walking to the far east end of the main beach and wading through a shallow pond (depending on the tide) and the up some stairs and down to the beach. There are two vendors selling beers and some food as well and offering chairs and umbrellas to customers. There are also visits from roaming food vendors. After sunset it can get cruisy.


View on map
The beach on the west side of town in the Roca Blanca neighborhood (so named for the whitish rock a km or so offshore) is the second gayest beach in Zipolite (after Playa del Amor). Directly in front of the Alquimista is where the gays hang out and around the rocks on the beach. After sunset things are occasionally known to get frisky.


View on map
Gyms, Yoga, Spas, Wellness etc
Gym open daily with weights and machines, classes such as Yoga, HIIT, circuit and Zumba. Juice bar. Day and week passes for visitors or monthly rates for locals. Gay friendly.


+52 81 3618 1026


Average rating: 96 Exceptional


View on map
Shopping
Gay owned shop which offers a great selection of mezcals, their famous colorful beach towels and other souvenirs and supplies. Note the current only working ATM is town is here.


+52 55 2106 1515


Average rating: 100 Exceptional


View on map
Permanently closed places
The following venues have been reported as permanently closed but we have listed them here as other less current websites may still be listing them as open. If there is a place in this list that has reopened or one above that has closed, please advise us at info@gaymexicomap.com
Hotels, B&Bs: Lyoban
Bars, Discos: Vista Del Amor
Bars, Discos: Xizalo Bar and Guesthouse
Additional comments from our visitors about LGBT places for Zipolite, Oaxaca
Write a review or comment