Hmmm, we're not sure which listing you want
Esa página está disponible también en español.
Your search corresponds to multiple places. Check out the listings below and choose the one you want.
Cowboy bar. During the week, there is karoake or shows. Friday and Saturday are the most crowded. Two levels with three bars. Club is upstairs with an inconspicious entrance off of Florencia.


Mexico City


View on map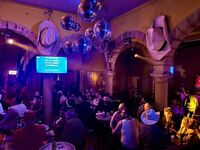 A country bar with country music and shows. Previously named El Condado.


+52 33 3658 2170


Guadalajara


View on map