Searching for something specific?
The Map
Everything is listed on the map: bars, discos, bathhouses, hotels, cruising and more. Locate yourself on the map and find places near you.
Explore the map
Featured Destinations
Mexico has some dynamic and world class cities and some of the world's best beaches. For gay and lesbian travelers the choices are endless from the one of the world's biggest cities with a gay scene to match to the biggest gay beach scene in the Americas in Puerto Vallarta and so much more.
There are two primary destinations of interest to LGBT travelers in Oaxaca State: the pretty colonial city of Oaxaca with its active gay nightlife and the laid back beach town of Zipolite where the nude beach is the principle draw. Other destinations include Huatalco and Jutchitlan.
Mexico City is one of the world's biggest and most exciting cities and has a gay scene to match with a wide variety of bars, discos, restaurants and a vibrant street scene.
The city continues outside the Federal District in the State of Mexico which has a fair number of LGBT places as well. A little further afield the neighboring state of Morelos has some great destinations for LGBT travelers such as Cuernavaca and Tepoztlán. And nearby Puebla and Tlaxcala have plenty of options too!
Jalisco state has three great destinations for LGBT travelers to explore. Guadalajara is Mexico's second city and rivals even the capital for gay life and entertainment. Puerto Vallarta is the beach resort famous for its gay nightlife and gay beach. Ajijic on Lake Chapala is an emerging destination popular with LGBT artists and retirees.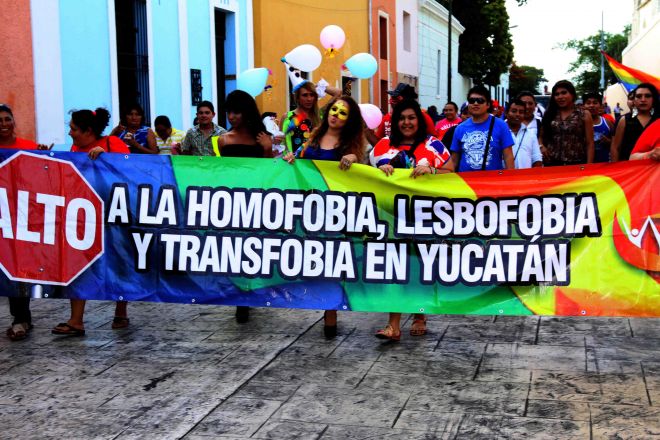 La capital del estado de Yucatán, Merida, tiene un mundillo gay vibrante. El ambiente de la ciudad es colonial y el clima es tropical. Y se encuentra cerca de los sitios turísticos como las ruinas Mayas de Chichén Itzá y tambien las playas famosas de la Riviera Maya como Cancún.