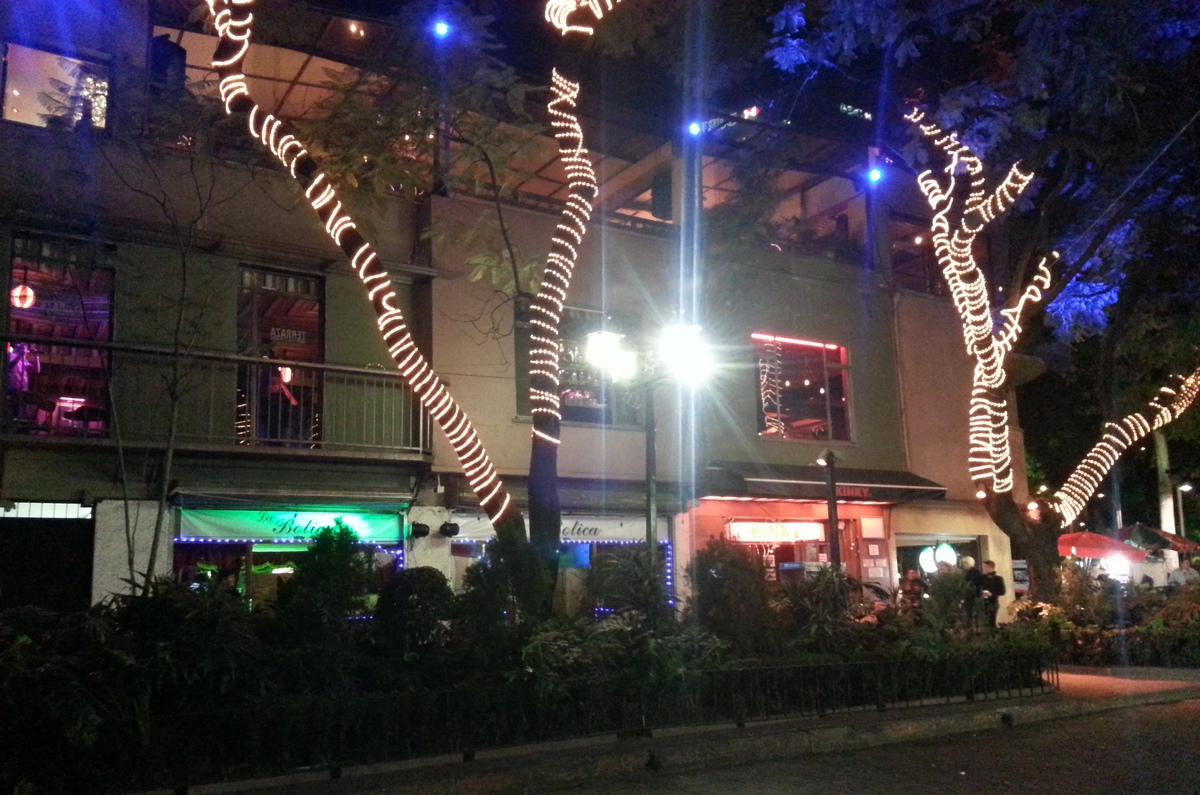 A Huge and Diverse LGBT Scene for a Huge and Diverse City
Esa página está disponible también en español.
Sprawling Mexico City has a huge gay scene for every taste from working class bars to trendy dance clubs. Calle Amberes at Paseo de la Reforma in the Zona Rosa (Pink Zone) is the center of the gay scene with bar after bar lined up on the same street. The rest of the Zona Rosa is filled with shops, restaurants, tourist hotels and a number of other bars (straight and gay).
The historic center also has a hopping gay scene, centered on Republica de Cuba street, with sometimes grittier but also often trendy places.
There are plenty of other gay clubs, gay friendly restaurants and gay cruising in other neighborhoods as well, especially Roma, Condessa and Polanco. See the listing guides and neighborhoods below.
The city is modern and progressive too. Same sex marriage has been legal in the Distrito Federal since 2010 (it is decided state by state in Mexico), and the local government has supported LGBT causes and there is a well developed infrastructure of support for the community. Enjoy all Mexico City has to offer, we're sure the friendly Chilangos will make you feel welcome!
If you're looking for nearby destinations from Mexico City, check out the State of Mexico or Morelos state (Cuernavaca and Tepoztlán).
Sort by: Category | Recomended | Area/Neighborhood | Alphabetical

Upcoming events in Gay and Lesbian Mexico City (CDMX)
June 15, 2019: 2nd LGBTTTI Diversity March in Ixtacalco, CDMX
The Mexico City borough of Ixtacalco will have their second annual pride march on Saturday June 15.
More information
June 29, 2019: Mexico City LGBTTTI Pride March XLI
More information
Publish your event here
Listings are sorted by the area of town they are in. Scroll down for options in Zona Rosa, Centro, Condesa, Roma, Polanco, Sur, Norte and Oriente.
Recommended
Tours and excursions in Mexico City for gay men, their friends and families. City tours, walking tours, excursions, nightlife.

see reviews on TripAdvisor


View on map
See full details
Zona Rosa
Juarez is officially the neighborhood's name but most of the LGBT places are in the Zona Rosa side of the neighborhood but we've included listings in the more residential Juarez here too.
Sur
There are many neighborhoods in the south of the city but we've grouped them together here.
A meeting center for the elderly of the LGBT+ community, especially transsexuals. They offer free services such as psychological support, a computer and Internet service, movies, a library or simply a space where the elderly of the LGTB community do not feel alone.


View on map
See full details
Community centre for the south of Mexico City. Offers workshops and conferences, as well as legal and psychological counselling to victims of violence and abuse. Hours of operation: M-F 9am-9pm, Sat and Sun 9am-4pm


View on map
See full details
Bathhouse, mixed, cruising. Open 9:00 to 20:00.


View on map
Bathhouse with massage available. Older facilities but with a good atmosphere weekends and some Fridays after work. Entrance charge approximately 85 pesos. Varied crowd.


View on map
A second location of Baños Rocío which is also found in Tlalpan. Steamroom. Mon-Sat 7am-8pm, Sun 7am-4pm


55 5571 0150


View on map
Bathhouse with mixed crowd. Cruising. Open 8:00 - 19:00.


View on map
Gay Weddings Mexico arranges everything you need for your same-sex marriage: blessing, judge, banquet, furniture, equipment, DJ, band


(55) 5523 2151


View on map
Men's underwear. Bikinis, thongs, boxers, jockstraps and enhancers in a wide range of colors and textures. Sells Mundo Unico, Joe Snyder, Saha and other brands. Located in Mexico City but distribute to all of Mexico.


+52 55 5336 0670


View on map
Cruising club for 18+ men only. This location has a bar, shows on some nights and themed specials on others, cabinas, dark room, bar area, coat check.


55 7034 6519


View on map
Cruising club for 18+ men only. This location has a bar, lockers, cruising area, cabinas. Different themes, specials and hours each night.


56176329


View on map
Cabaret/bar with non-stop drag shows. Also a store, makeup services and more.


(55) 55523691, 5540389125


View on map
Sex club with different nightly events and themes such as naked or bareback. Bar, clothes check, condoms, dark room, video room, kink theme rooms. Hours vary.


View on map
Identity Diversity Legality, is a legal bureau, formed by young lawyers, specialized in providing advice, and exclusive sponsorship to the Lesbian, Gay, Bisexual, Transvestite, Transsexual and Transgender (LGBTTT) Community.


(55) 4444 3923


View on map
Southern branch of the Lobby Sex club. Open bar and free condoms. Generally open Sunday, Monday, Wednesday and Saturday and some other days for special events. Check their social media for schedule. Entry 120 pesos.


WhatsApp 55-4045-1828


View on map
VD+ is a very large dance club which holds special events for the LGBT community such as Circus Freak Show


+52 55 5590 0164, +52 55 5579 0679


View on map
Norte
There are many neighborhoods in the north of the city but we've grouped them together here.
Oriente
The sprawling neighborhoods in the East of the city don't have a great quantity of places so we've grouped them together here.
Bathhouse with a cruisy steamroom. Open daily 6:30 am to 8 pm.


55 5539 8830


View on booking.com


View on map
Small bar that often fills with people dancing in the space between tables. Diverse neighborhood crowd. Beer, simple food menu with items such as hamburgers.


+52 55 4551 0414


View on map
Additional comments from our visitors about LGBT places for Gay and Lesbian Mexico City (CDMX)
Write a review